Skippered yacht charter Croatia
If you really want to discover Croatia's authenticity, our sailing holidays Croatia skippered package is your best choice. When you plan to go sailing in Croatia with skipper, we can help you book one our beautiful yachts, and our skipper usually comes with the inventory of the sailing yacht. If you feel unskilled or you don't own a valid boat license, we will be glad to offer one of our skippers. Just choose your desired destination (Split, Dubrovnik, Zadar, Pula, Trogir, Krk,...), preferable period and send us your inquiry.
That doesn't mean, that the skipper will tell you what to do and where to go - on the contrary - you will still be in charge of your itinerary, and every-day dynamics. Skipper is here to reasonably and objectively help you about your sailing route, to estimate the crew's abilities and suggest the daily dynamics considering your wishes and of course - the current weather conditions. However, sometimes of course the responsibility overcomes the flexibility, and the crew has to be aware of that - especially when bad weather forecast is issued. When the nature wins, we still have to submit. It is essential to harmonize the crew's wishes for everyone to enjoy in this authentic voyage.
Book your Skippered sailing holidays Croatia in 2 steps:
Pick your favorite period, write us your wishes and preferences
Send us the INQUIRY.
What are the Croatia yacht charter with skipper benefits?
No check-in/out procedure - our skipper does that for you
Sailing holidays Croatia skippered packages can provide more options and useful tips about the area you are sailing, the highlights and first-hand information
100% discretion and safety aboard - skipper is all the time checking the weather conditions and is fully aware of the maritime situation
He/she can recommend great sailing areas, nice swimming coves, best seaside restaurants and daily dynamics.
Who are our skippers?
Mainly, our Croatia skippers are professional guys and girls from the Adriatic coast, who know how to sail the yacht for you. Experienced and fully aware of the local weather conditions, with the knowledge of the safe sailing areas, protected ports and marinas, they will guide you safely through your sailing tour. If you prefer, they can also suggest good domestic taverns and food restaurants along the route. They have the necessary skills to recommend and adjust your sailing trip accordingly to your wishes. He/she will take all the responsibility considering your safety at sea, so that you can have a relaxed vacation.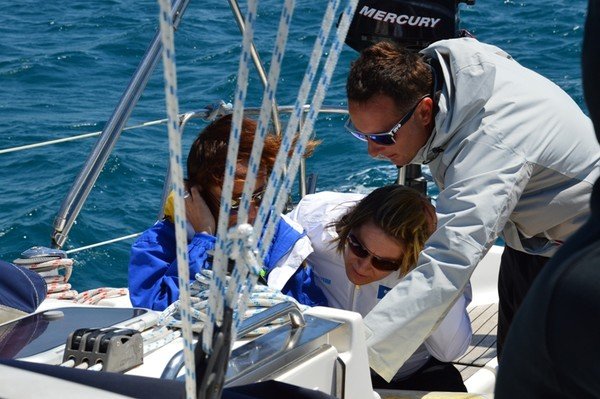 What is the Croatia skippers price?
Fee for the skipper at our Skippered yacht charter Croatia ranges from 130€ - 150€/day, depending on the size of the yacht. The boat guests are also responsible for the skipper's food and beverages aboard. This means that the food supplies aboard are always big enough to appease a hungry mouth. Skipper also needs to have he's own cabin, so please, bear this in mind when planning your sailing trip. Remember that the rested skipper is a happy skipper. Just send us the INQUIRY - and we will tailor your vacation.
Some of our extra offer on board services at our Skippered charters:
Hostess 100€/day
Cook 110€/day
Extra crew help 90€/day